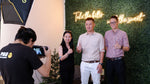 Honored invited by Exabytes Retail Hero :
SHARING THE TRANSFORMATION JOURNEY PRE AND POST PANDEMIC
YUMMI HOUSE, a well-established brand in Singapore, specializing in the retail of BIRD'S NEST and WILD HONEY for 16 years. In 2011, Yummi House officially expanded to Malaysia's market.
Since the outbreak of the COVID-19 pandemic in 2019, many countries have implemented lockdown measures, leading to what can be described as a global economic downturn. Traditional businesses and retailers who were previously following conventional sales methods have begun to recognize the importance of the online market and have shifted towards e-commerce sales.
Fortunately, Yummi House has successfully weathered this crisis. At the same time, has ventured into the online market. This new chapter involves a dual approach, combining both online and brick-and-mortar retail sales.
EXCERPT : 
" Yummi House is a company specializing in Natural Wild Honey and Handpicked Bird's Nests. Before the pandemic, our primary business focused on retail, exhibitions, roadshows, and similar avenues. However, when the pandemic hit and all retail operations came to a halt, our team convened for an internal meeting to decide to pivot our offline business to the online realm.

We invested a significant amount of time in taking courses, conducting research, and learning to develop an online marketing and sales system tailored to our company's needs. It was during this time that adversity turned into an opportunity, allowing us to redesign our company website, acquire new knowledge in digital marketing, and plan the entire e-commerce process. Subsequently, we began operating our online business.

As a result, our company's overall operations have become even healthier than before, as it combines complementary functions of both offline and online channels. This was one of the positive outcomes of our transformation during the pandemic.

I would like to convey to all small and medium-sized business owners that sometimes a crisis can be a turning point. It can force our businesses to evaluate what we're not doing well, identify areas for improvement, and seek progress. If we can find breakthroughs internally, it can be an opportunity for rebirth. Furthermore, all innovations must stem from understanding customers and building a business philosophy based on reputation and brand, enabling the company to thrive. "
- Wilson Er, Managing Director of Yummi House
▲ Wilson Er, Managing Director of Yummi House being interviewed.
▲ Exabytes representatives learn about Yummi House's products.
For further more information, stay tuned with us!